Ambergris Caye Tours
Special Offers: Ambergris Caye Cave tubing and Zip Line USD$80.00 per person for group of 6+
Ambergris Caye Cave Tubing, Zip Line, and Mayan Ruins - Group of 4+: USD$150.00 per/ person
Altun Ha Mayan Ruins and Zipline Canopy Tours
4 persons: USD$125.00 per/ person
5 persons+: USD$100.00 per/ person
Call: 011-501-600-2631 – YOU NEED TO CALL AND A DEPOSIT IS REQUIRED TO SECURE YOUR RESERVATION.
Youngest Allowed: 3 years old
Heaviest Allowed: 350 lbs
Tour Duration: 5 hours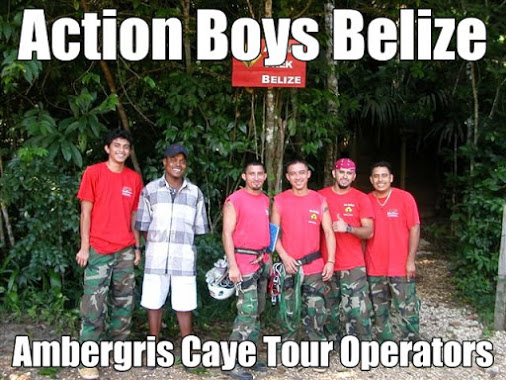 Hi, and welcome to Belize. Thank you for choosing Belize ( Ambergris Caye, San Pedro, and Caye Caulker ) as your vacation destinations. Thank you for choosing to view our forums as well.
We are known as Action Boys Belize. Our tour company is made of tour guides ( FRIENDS ) that came together to offer their services to visitors throughout the country of Belize. Most of us, at a point were employed as freelance tour guides by the larger companies. Our team leader ( Donald Ramirez ) decided to go on his own because he believed that his guiding skills were being taken advantage of by the tour companies. So, he went on his own and started his own Operation ( His website: http://donaldramirezbelizetours.bravehost.com ). We were all thinking that Donald's attempt to go on his own would be a failure. We teased him by calling him Action Boy because of his bold action. Because, if his operation would fail, he will never be hired again as a tour guide by any other tour company.
Donald created most of the triple tours in the country and he was very busy on tours. He started calling us to assist him. At a point, it was all of our friends working together. Donald decided to rename the company to Action Boys Belize.
The word ACTION came about because of his bold act to go on his own.
We became his BOYS
The word BELIZE is used because we don't only represent ourselves. We represent our country BELIZE with a deep sense of NATIONAL PRIDE!
We are Action Boys Belize, and we work as a happy family of friends ( Some times. Lol ). We offer our services to visitors staying in San Pedro, Ambergris Caye, Caye Caulker, Belize City, San Ignacio, Belmopan City, and most other part of the country.
Thank you for visiting our forums. Feel free to create your own tour packages if you don't find what you are looking for go to www.actionboysbelize.com
Welcome to Belize!
Action Boys Team